The Process
Select a Design you like - this can then be quoted individually to suit site design windload and delivery.
Do you require a floor system? Timber flooring / decking material at extra cost - to be purchased by them from a local supplier (like Bunnings)
Do you want awnings to the side/s or end of house? Size 2.4m or 3m.
Will you require full elevation drawings and plans with Engineering Certification and Bers Thermal Energy report for Council Building Approval as a Class 1 habitable dwelling?
Submit request to office via Email for quoting.


Timing
When yes to above it will usually take up to three or four weeks for issuing of all plans and paperwork for building approval after placing your order.

If you plan to build on a slab you will need to arrange a Soils test and subsequent slab design to suit soils type as determined from the test. This will be an additional cost.

A site plan needs to be drawn showing block dimensions, house site and contours of land with any cut or fill information.

You will also need plumbing and water treatment plans and electrical plans.

So armed with all the relevant papers you need to make a building application to the local body. Most will issue you with an information package and checklist to follow.


If our quote is acceptable, you can later select
Roof type - Corrogated or Trimdeck
Roof colour - from Bluescope Colorbond range
Wall colour - if Bluescope Colorbond horizontal
Raingoods colour - gutter as Quad or Square type
Downpipes as PVC or 100 * 75 Colorbond
Note: Internal walls are included in our quote as shown on plans - but fit out materials are extra and not quoted.
This means plumbing, electrical, kitchens, bathrooms, Gyprock lining to ceiling or walls, internal timber doors etc.
Lead time for most ranges is four weeks from payment for supply from suppliers. That is, house frame and trusses to site with insulation, windows and roofing.


Warranties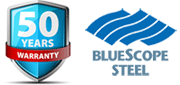 Yes up to 50 years for Bluescope house framing.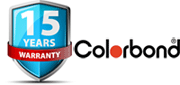 Also other manufacturer's warranties apply such as up to 15 years for Colorbond sheeting.